Bau wrote:
are you sassin' me boy?

every one is lately it seems
Ain't given you no sass, ma'am.
If anybody was meant to be subjected to general sassing, it was much less somebody than something; and if anything like that was indeed hoped to be harrassed and sassed a bit here, it was the pompous, pretentious and pathetic rhetoric (and self-image as well) of some of the famous, or at least popular, magick theorists of the age. Their style of talking, and probably living; their notion of their absolute uniqueness and gnosis-based certified priviledge; their penchant for the idea of the Perrenial Wisdom or the Great Tradition, capital letters et al., and the need for the clandestine mystique the latter must inevitably require.
Bau wrote:
just for that I'm going to, from now on, spell it 'majic'
A good idea but, alas, an already used one, it would seem:
(a very comely EP by a very comely band, btw)
Bau wrote:
and I think I have an idea of what I am going to start calling 'syncronicity'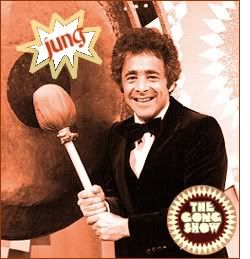 Psychotherapy with a hammer? Wait, it's not a hammer; analysis with a club, then - still fine with me. (This boom-making thing looks quite like a poppy-head to me:
Eh, talking poppy-cock again. Sorry. If it was Freud, not Jung on the photo there, it all wouldn't be quite out of place - but alas . . .